Sween Cream Once a Day Moisturizing Body Cream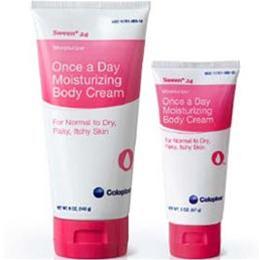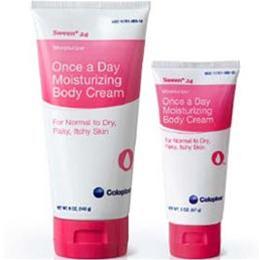 Once-a-Day Sween Cream features a combination of four non-occlusive moisturizers and natural vitamins A&D, which immediately help restore dry, fragile skin that's at risk for cracking, especially around contact points like heels and elbows. The non-occlusive View more

Once-a-Day Sween Cream features a combination of four non-occlusive moisturizers and natural vitamins A&D, which immediately help restore dry, fragile skin that's at risk for cracking, especially around contact points like heels and elbows. The non-occlusive formula absorbs quickly into the skin and will not interfere with the adhesion of tape or ostomy appliances.

Sween Cream is ideal for cracked and flaky dry skin, red skin due to minor burns, radiation/chemotherapy skin reactions, Peri-wound skin, Perineal Erythema, surgical incisions, and many other common skin ailments.

The formula reduces itching and pulling discomfort, relieves itching under tape, addresses callouses and reddened skin.